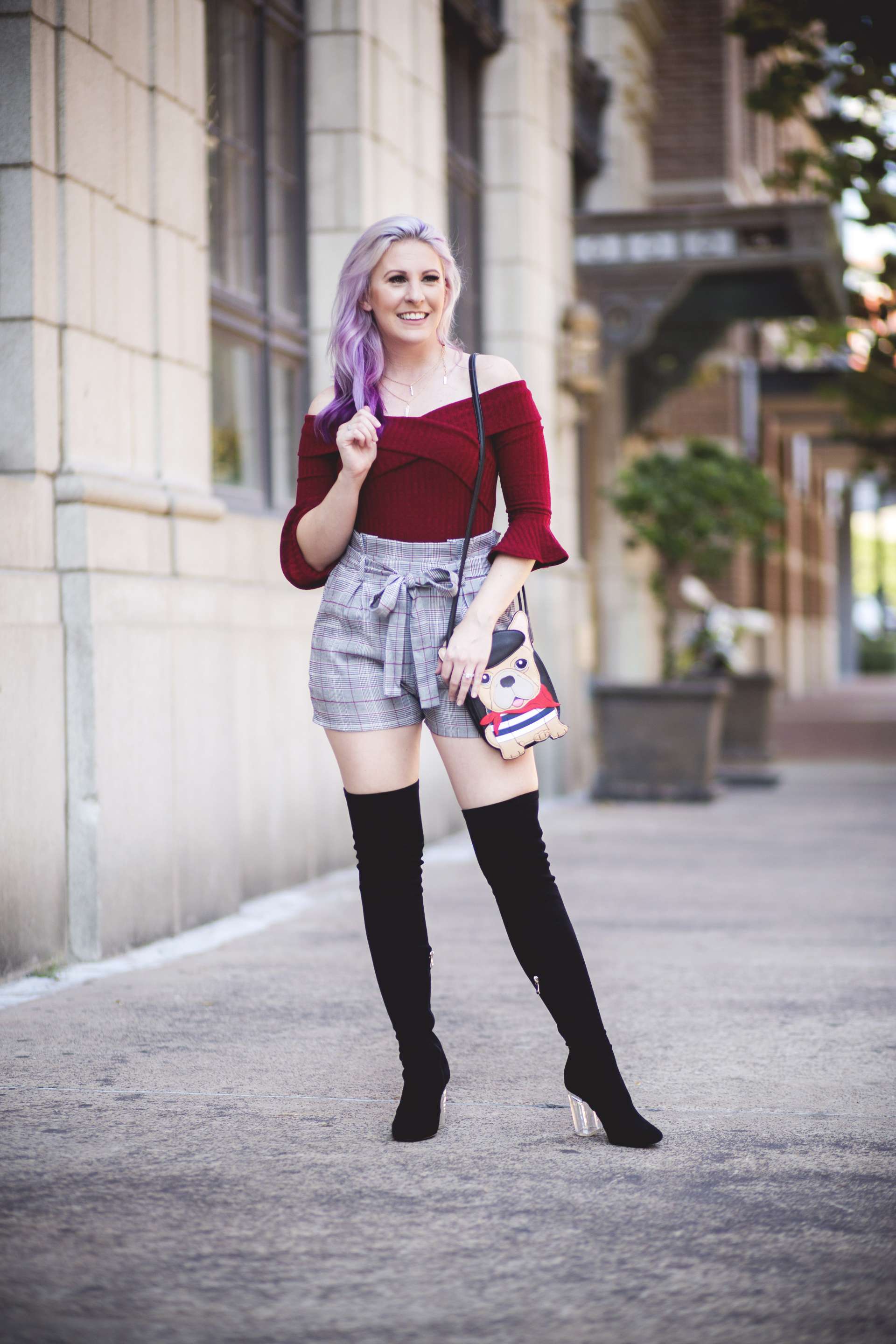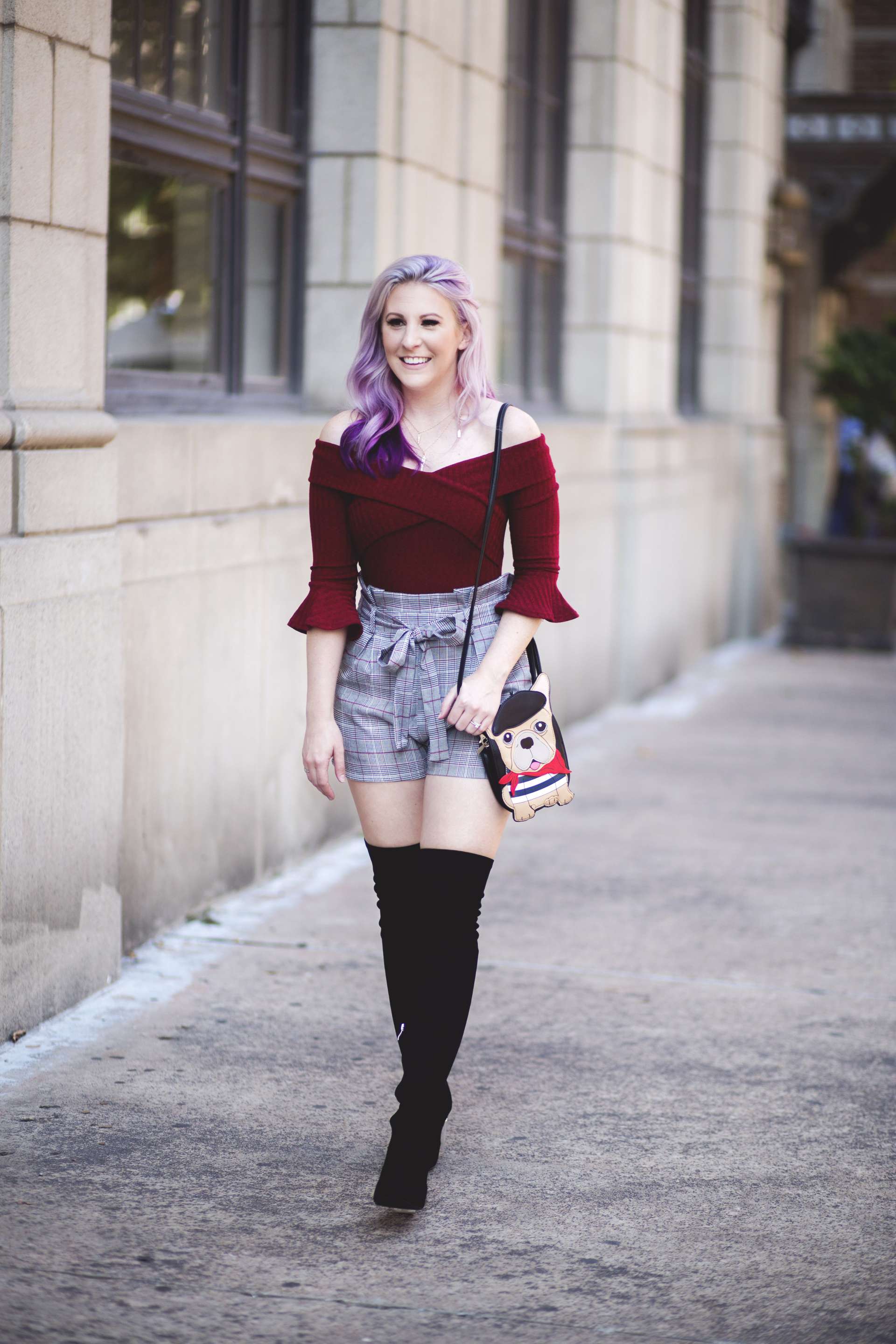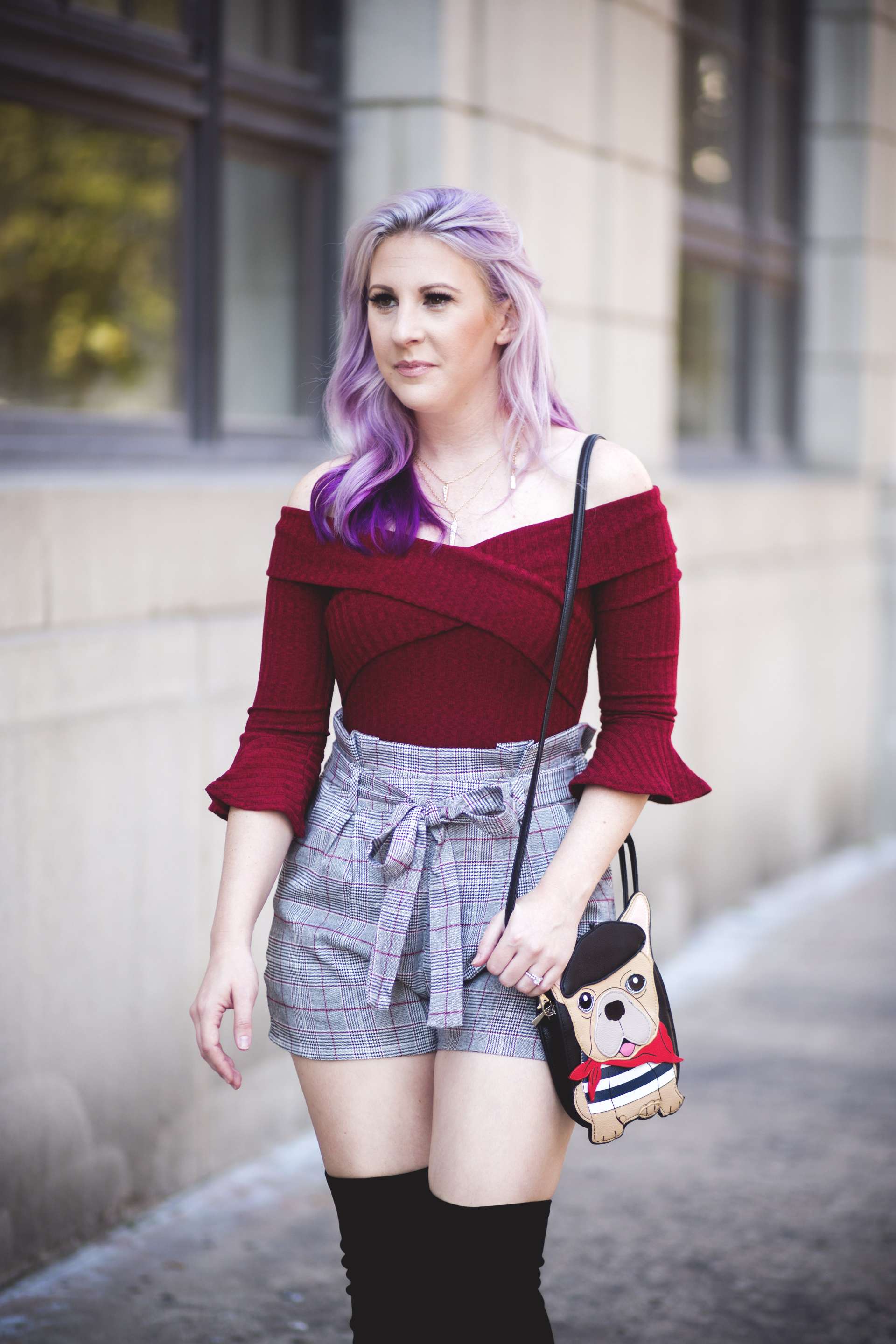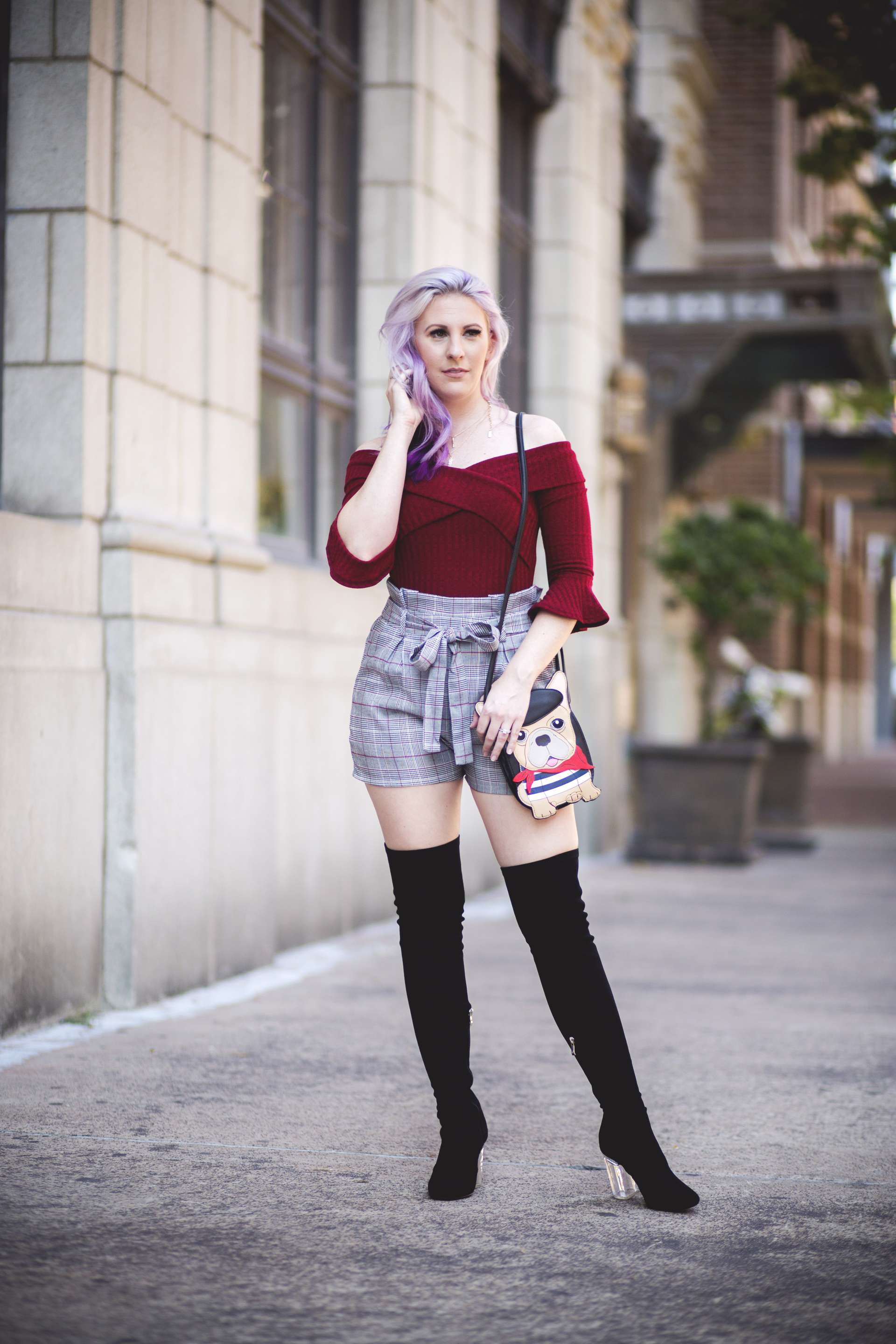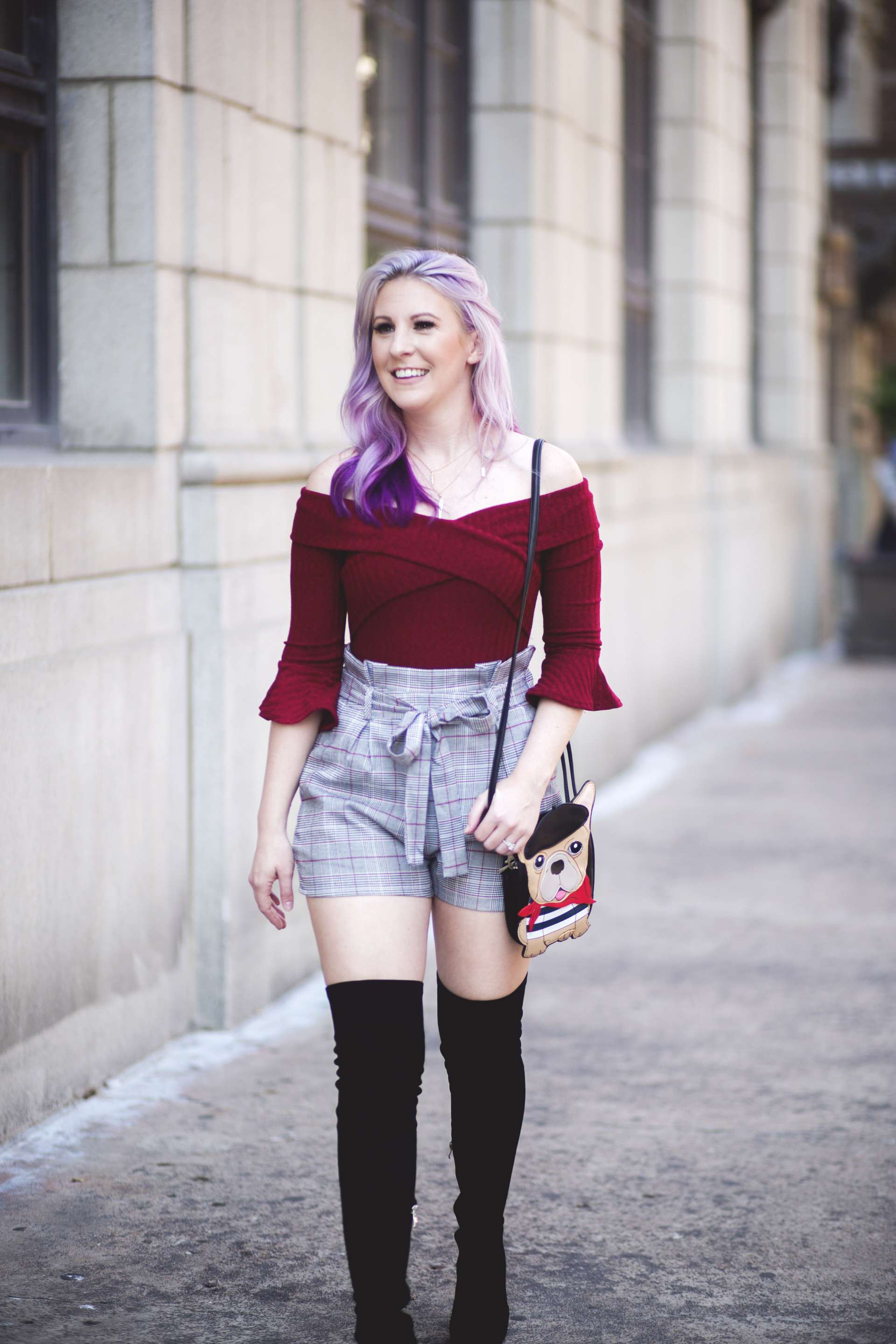 Happy Halloween Y'all! Although today's off the shoulder bodysuit look isn't all the Halloween vibes, it might just help you not chow down on so much of your favorite sweet treats so you can rock this knitted off the shoulder bodysuit to the best extent. But there is no judgment which ever road you take because Lord knows I will be eating all of my favorites including the left over candy, haha. Before I go and get into the tasty details let my just blow your mind with this look.
I personally love high waisted bottoms that have stretch because they fit my waist well. I thought with this still being a bodysuit newbie, styling it this way would make the off the shoulder bodysuit and myself happy. Boy did my hips/waist leap for joy! Not only do these shorts have an elastic waist band, but this knitted off the shoulder bodysuit does as well, WIN WIN. I did see these shorts are sold out in all sizes, Other Than large. I have linked the same style in a few colors. I ordered a small in both the shorts and bodysuit and even had a little extra room in my buns and length area should I need it.
( to help with sizing reference: I am 5'2, jeans size 26, bust 33″)

p>
Now for our Halloween traditions
As I am sure you know by now, we only have our sweet fur baby and no actual children of our own. We have always found great joy in sitting out on our front porch handing out "GOOD" candy to all the littles in our neighborhood. Luckily, our neighborhood is filled with lots of kiddos so we are never just sitting twiddling our thumbs. Every year I purchase more candy than the last and I always, always run out. I went a little overboard this year because I am determined not to run out. I am fully aware I may be running to the store halfway through the night in usual Sarah fashion though lol. Our neighbors are as just as into the festivities as we are and with living in a cul-de-sac we have many times had a block party. This year we are keeping the food in the house so all of us can watch the World Serious Game all while enjoying Halloween. I fully decorate the house every year so whether you're outside with us or inside snacking down on food you feel like you get the full experience.
This years menu includes:
Buffalo Chicken Sliders
Fried Pickles
Chips & Queso (because it's not a party without that HAHA)
 I would love to hear all about the Halloween traditions you have in the comments below! I am always looking for new ways to make ours even more festive.
Have a great Halloween and Be Safe because there are lots of witches out there 😉