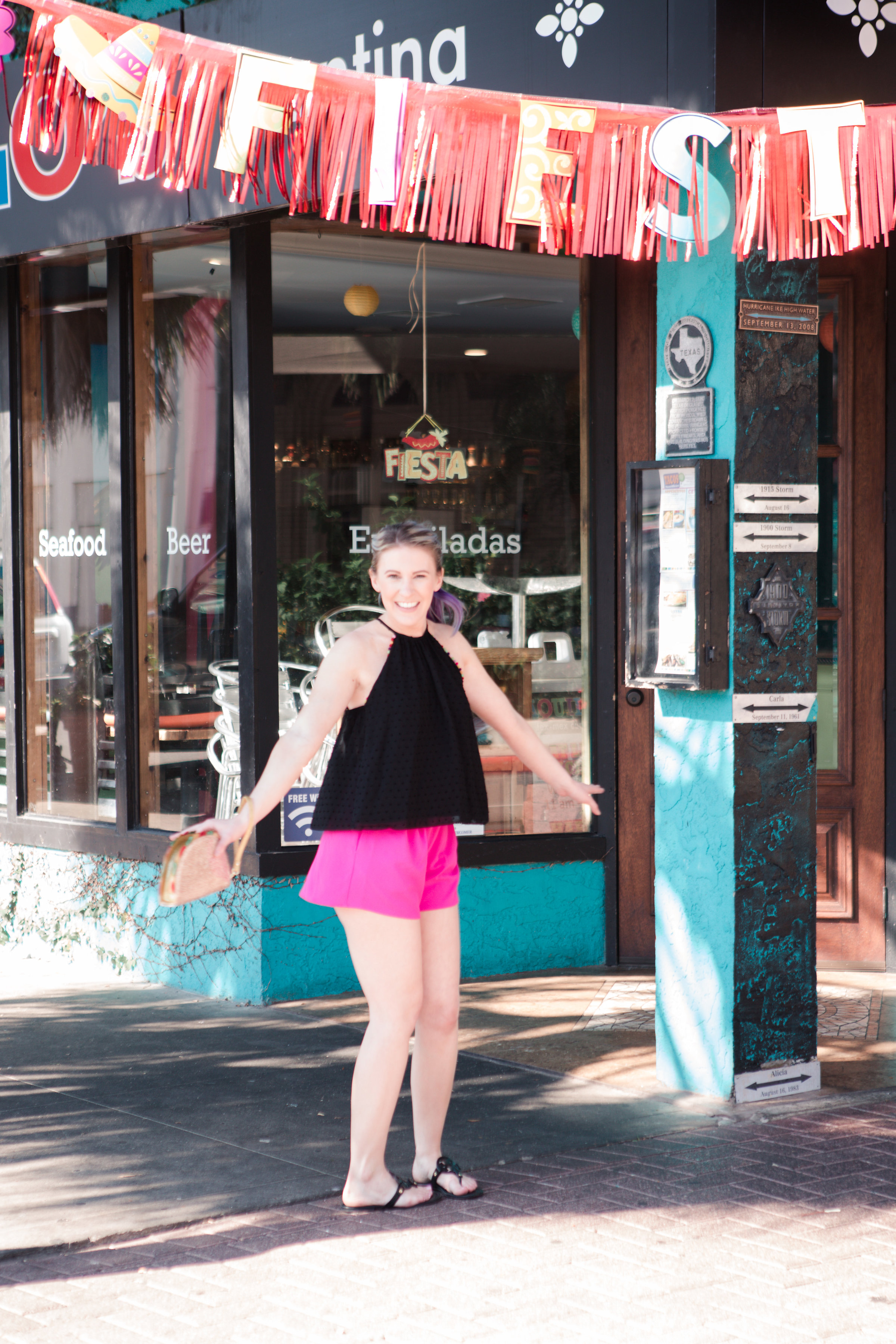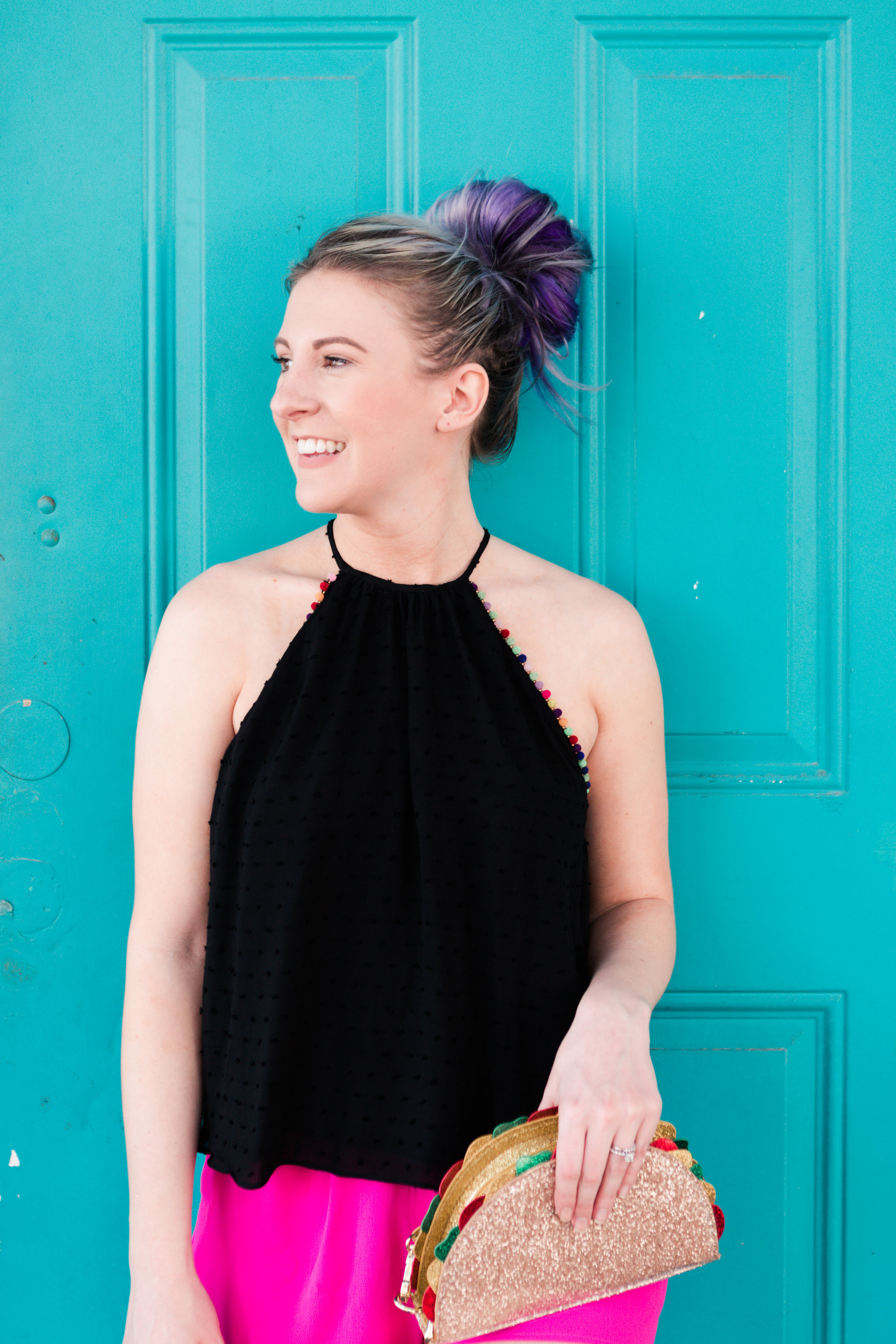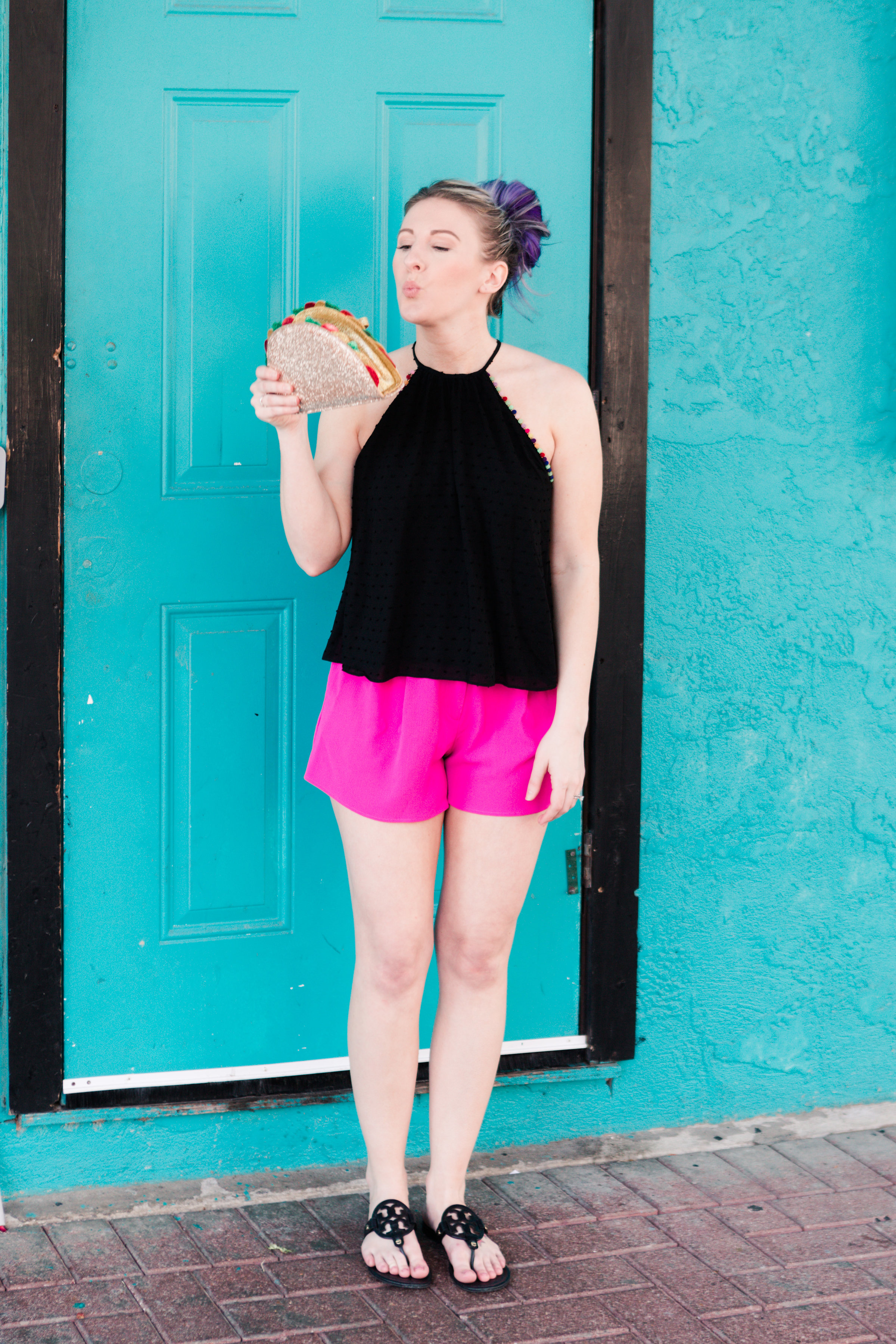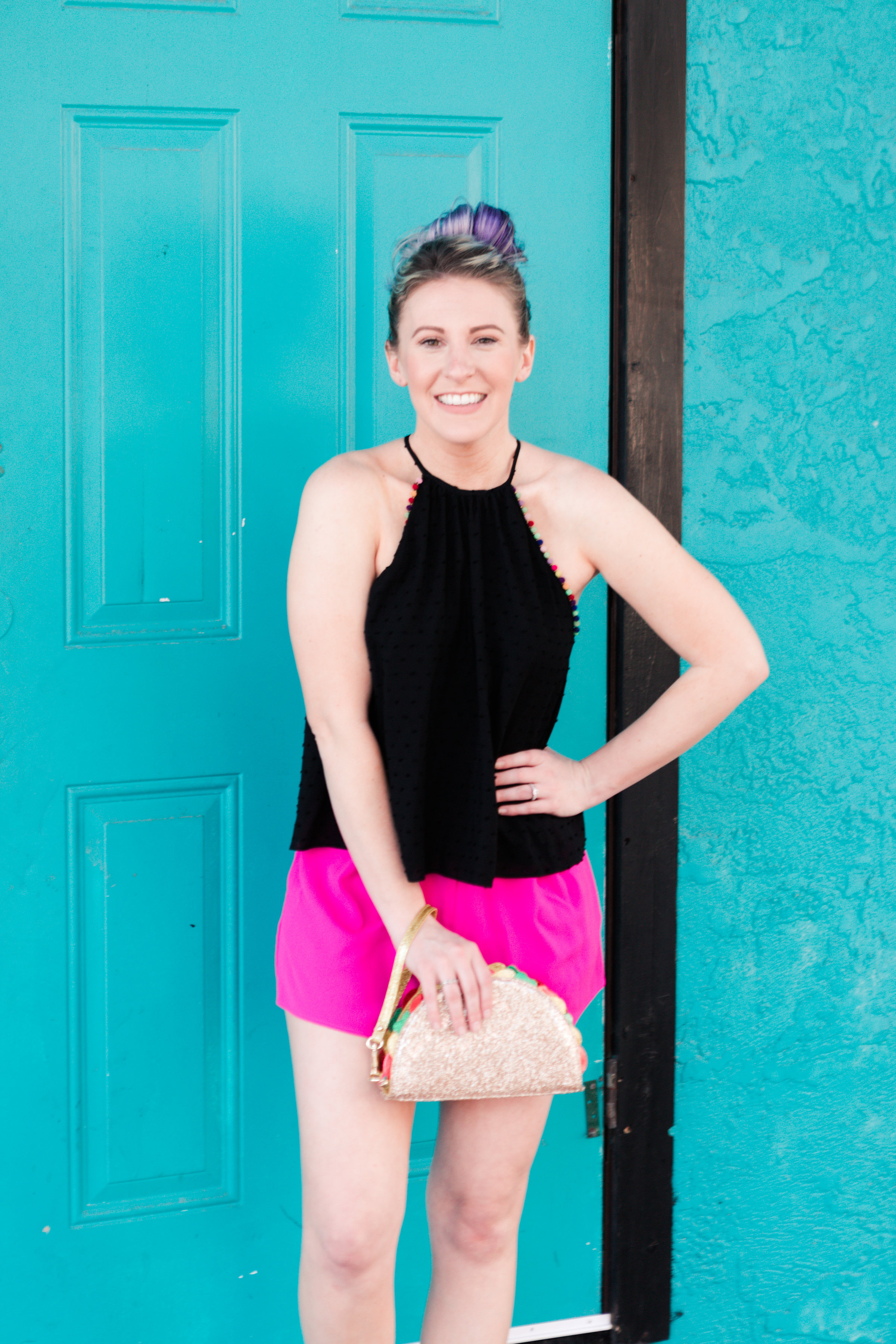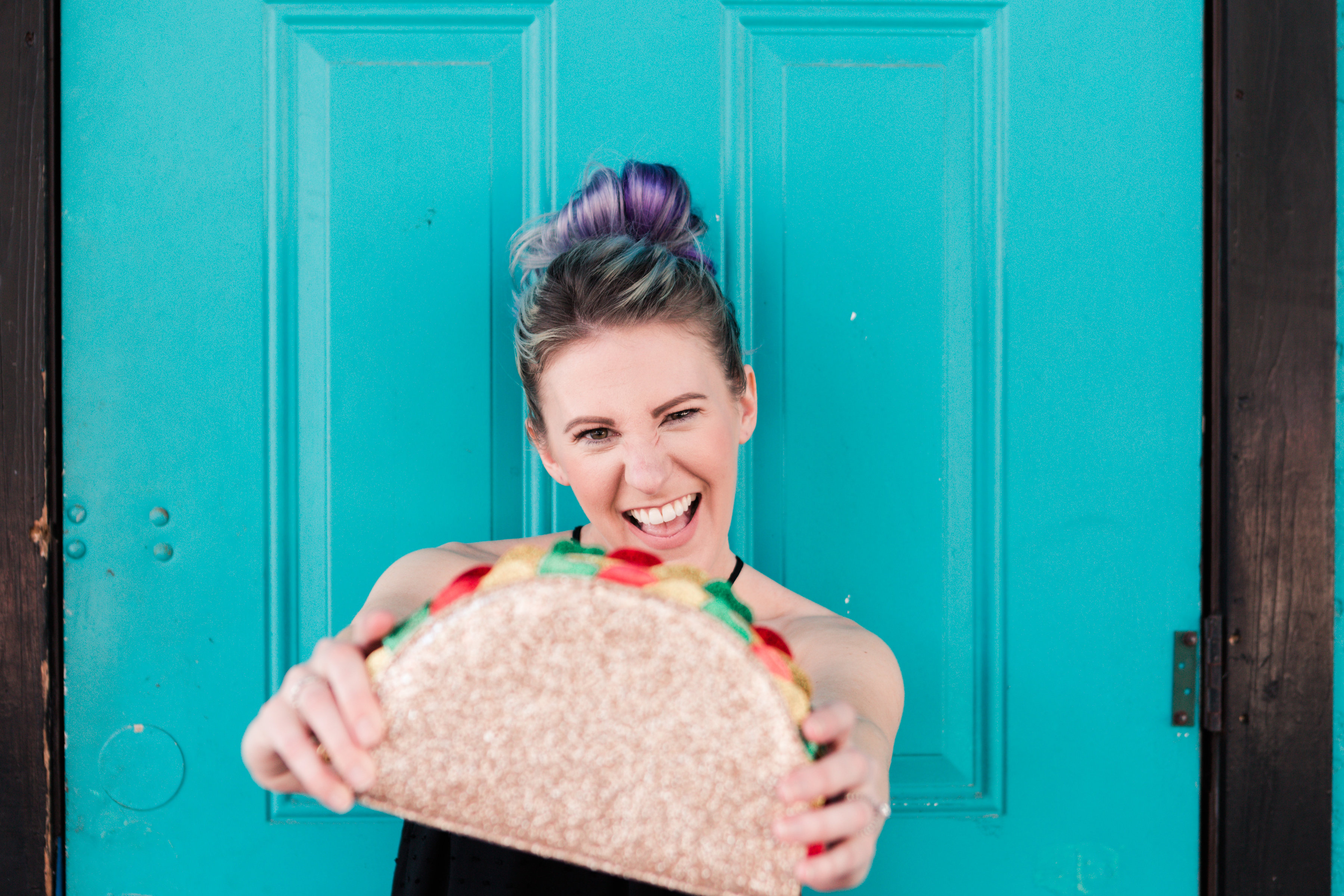 Francescas: Top // Nordstrom: Shorts // Charming Charlie: Clutch
This Taco Tuesday has me feeling like I need to order a taco from all my favorite taco restaurants in Houston. Before I go into all that, I will go ahead and apologize to anyone who doesn't agree with my favorites. These restaurants serve what some people call "hipster tacos" , but these tacos happen to be right up my alley and probably yours too! The hubs and I typically eat Tex-Mex or Torchy's 3x a week.. yeah I know it's a bit much. But we can't help our love for queso, margs, and tacos! And if you haven't seen my latest Instastory Kyle recently helped himself into a cast and what might possibly end up being surgery, so our "out to dinner" budget is being cut down to tacos or pb&j sandwiches. All in all that isn't a bad thing with the amazing places we have to dine out here in Houston. These are my absolute favorites!
Torchy's Tacos
This Austin taco icon knows us by name. Seriously though, the staff at our local Torchy's doesn't even ask us what we want to drink as we walk in because they're already know and begin to prepare them as we sit down. Now that is A+ customer service ladies and gents! I would have to say my picks for favorites here are the Fried Avocado and Chicken and Waffle (taco of the month so not a menu item). Kyle has really grown to love the Baja Shrimp and high recommends it.. his words not mine lol. Also if you are in the tequila mode you definitely need to order a Torchy's Tini to finish those tasty tacos off it. Quite delicious if I do say so myself 🙂
Velvet Taco
Holy smokes y'all! These tacos will knock your socks off, but not before their homemade red velvet cake makes you pass out in love. For me you probably have already guessed it if you're familiar with their menu, but my favorite here is the Shrimp and Grits. They do a wonderful job and giving me the creole flavors I love all in a tortilla. If you don't care for seafood, then the Rotisserie Chicken is a MUST try! The chicken is honestly so tender it melts in your mouth. I wish I knew the secret to cooking my dinner at home that well.
Liberty Taco
Haha, I feel like I am so typical on what my absolute favorite is here I should just not say anything. HA! Who am I kidding, of course I am going to say it anyways.. the Cajun Fish! I just might try to convince Kyle we need to make the drive tonight because I am already dreaming about this taco. Beware, this next fav is spicy but fantastic! Definitely try the Cali Club. Kyle gets this one and I snag a couple of bites as the spice makes it too much for me to eat a whole one.
Fusion Taco
I have a love for Persian food but I can honestly say I never have had a Persian inspired taco until Fusion Taco's Falafel Taco, truly sensational! If you love tasty hummus then you definitely HAVE to try this taco. Okay, now for my allllllll time favorite of Fusion, the Chicken Fried Oyster Taco. Yasssss! This is a must have when I am craving Drago's oysters and can't teleport myself to New Orleans. It gives me all the NOLA feels minus the hours drive to get there, haha.
Now that I am pretty much starving and wanting to go snag tacos for lunch, I would love to hear what are some of your favorite Taco restaurants. You might just give Kyle and I a new one to love!
Photography By: C Wright Photography