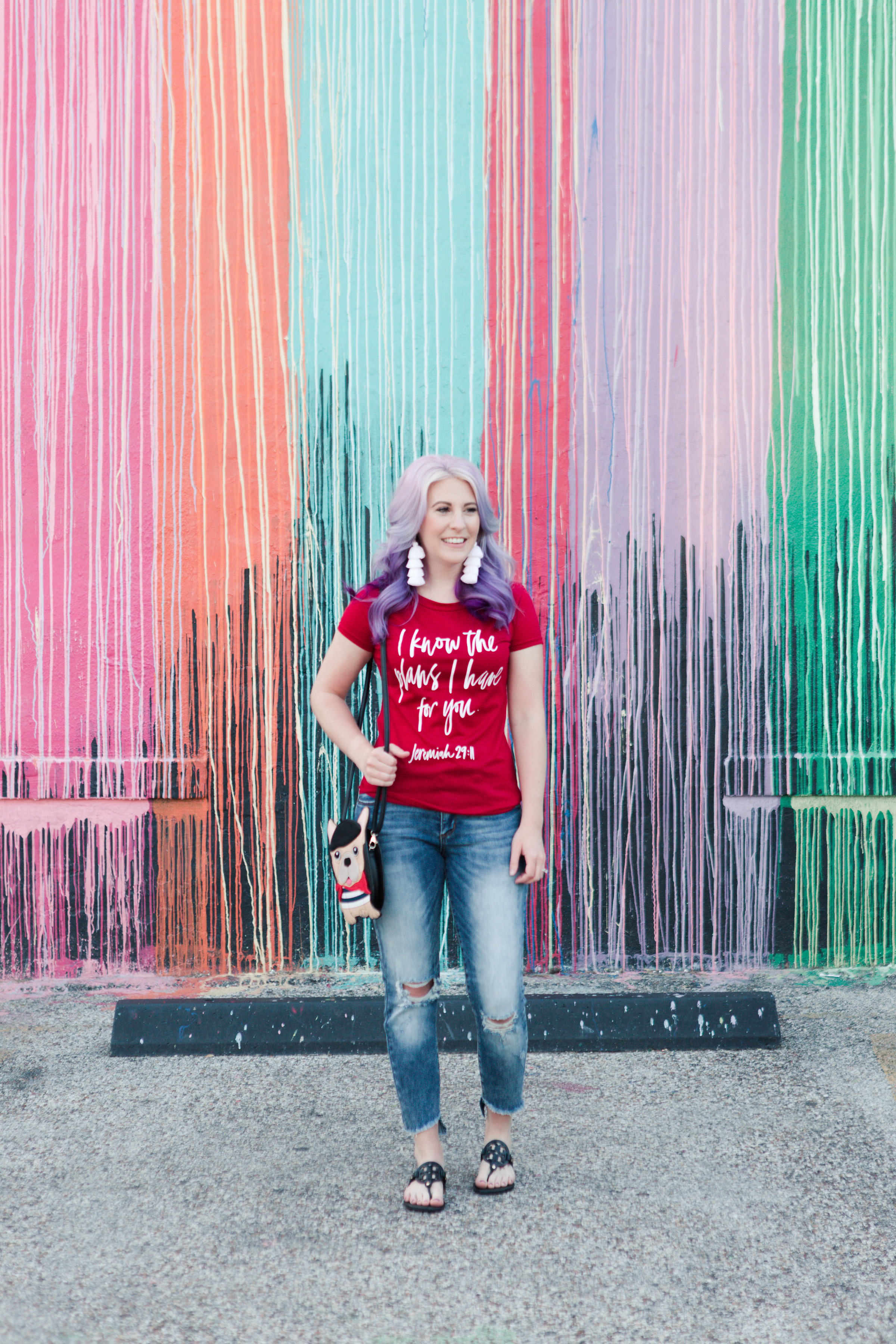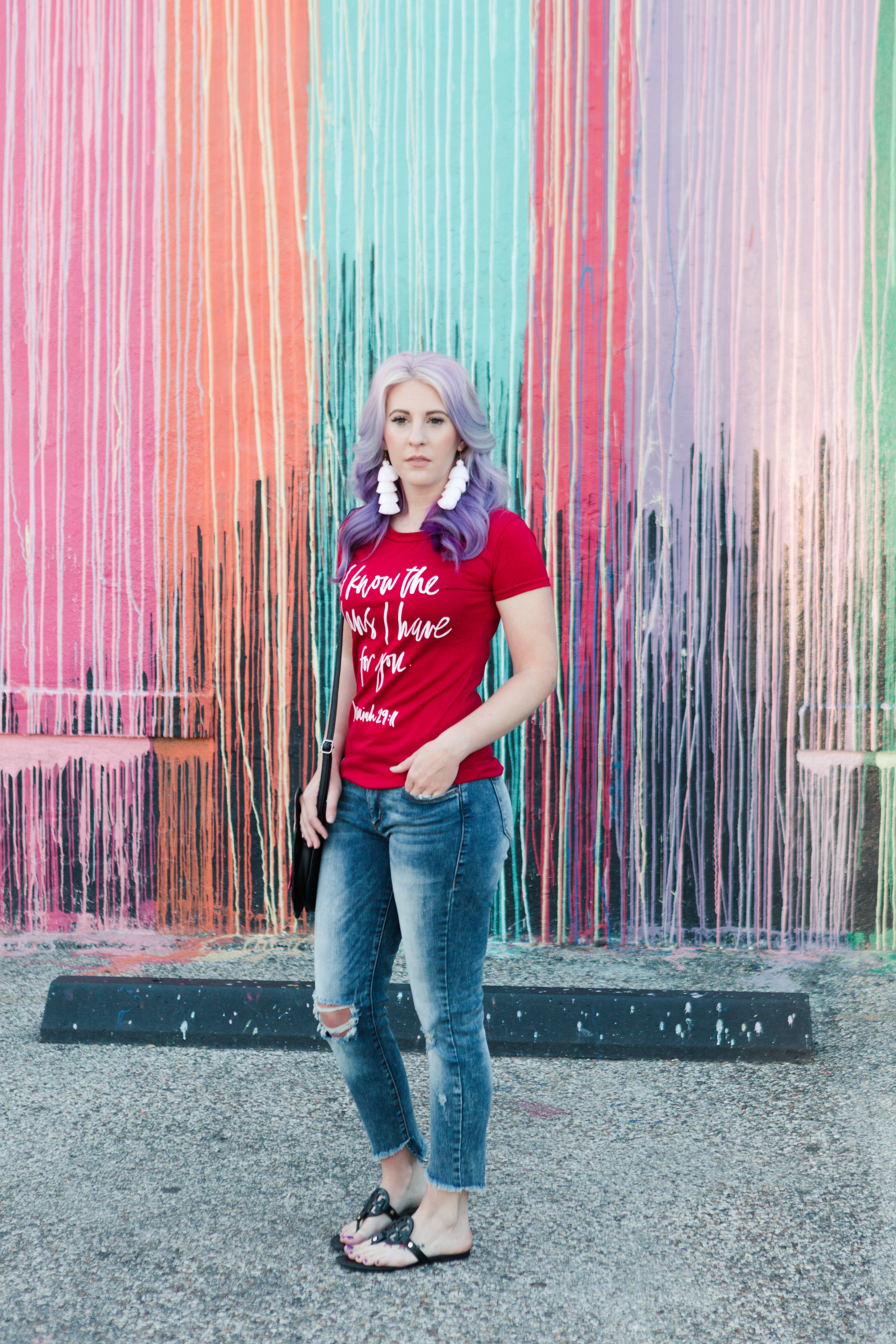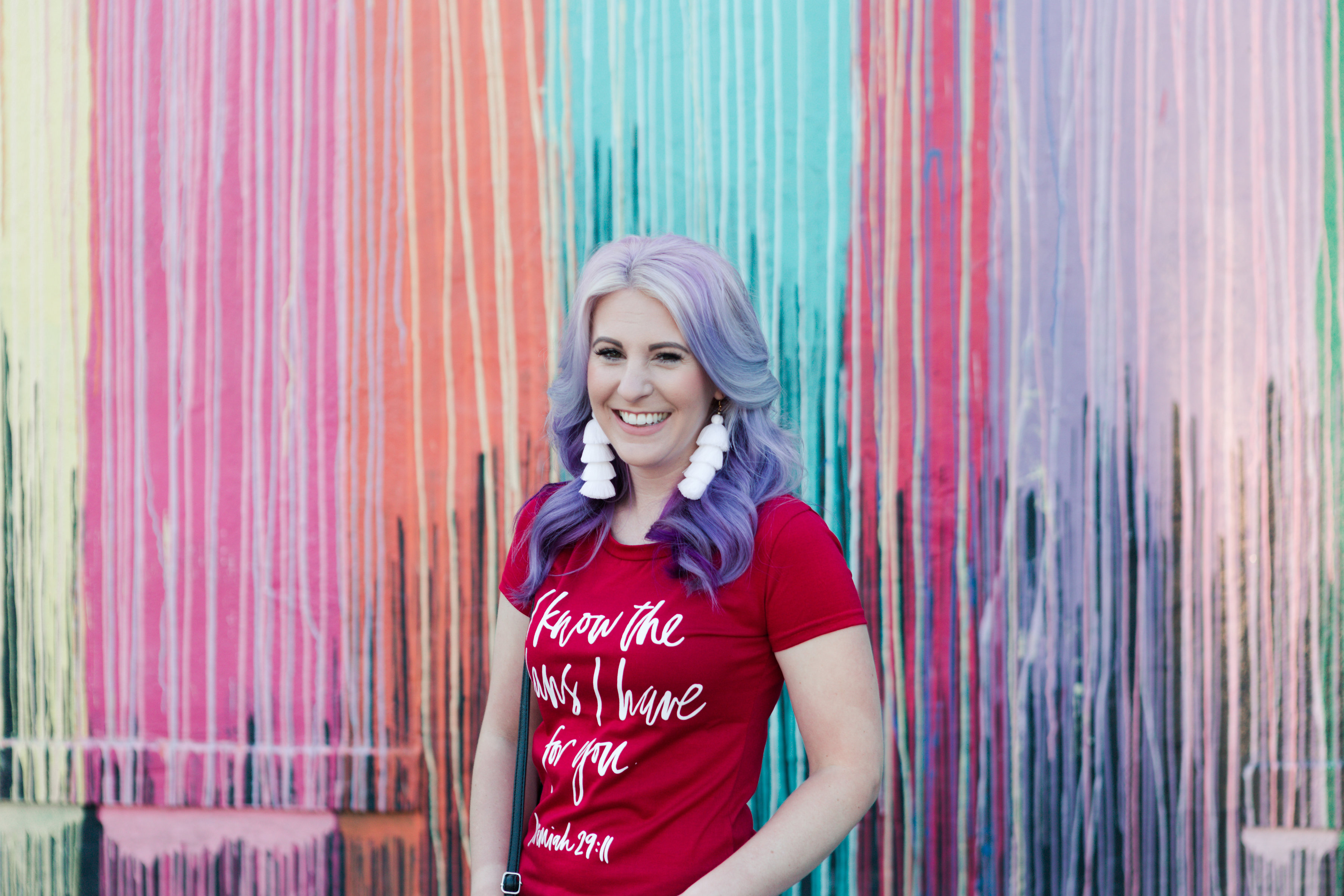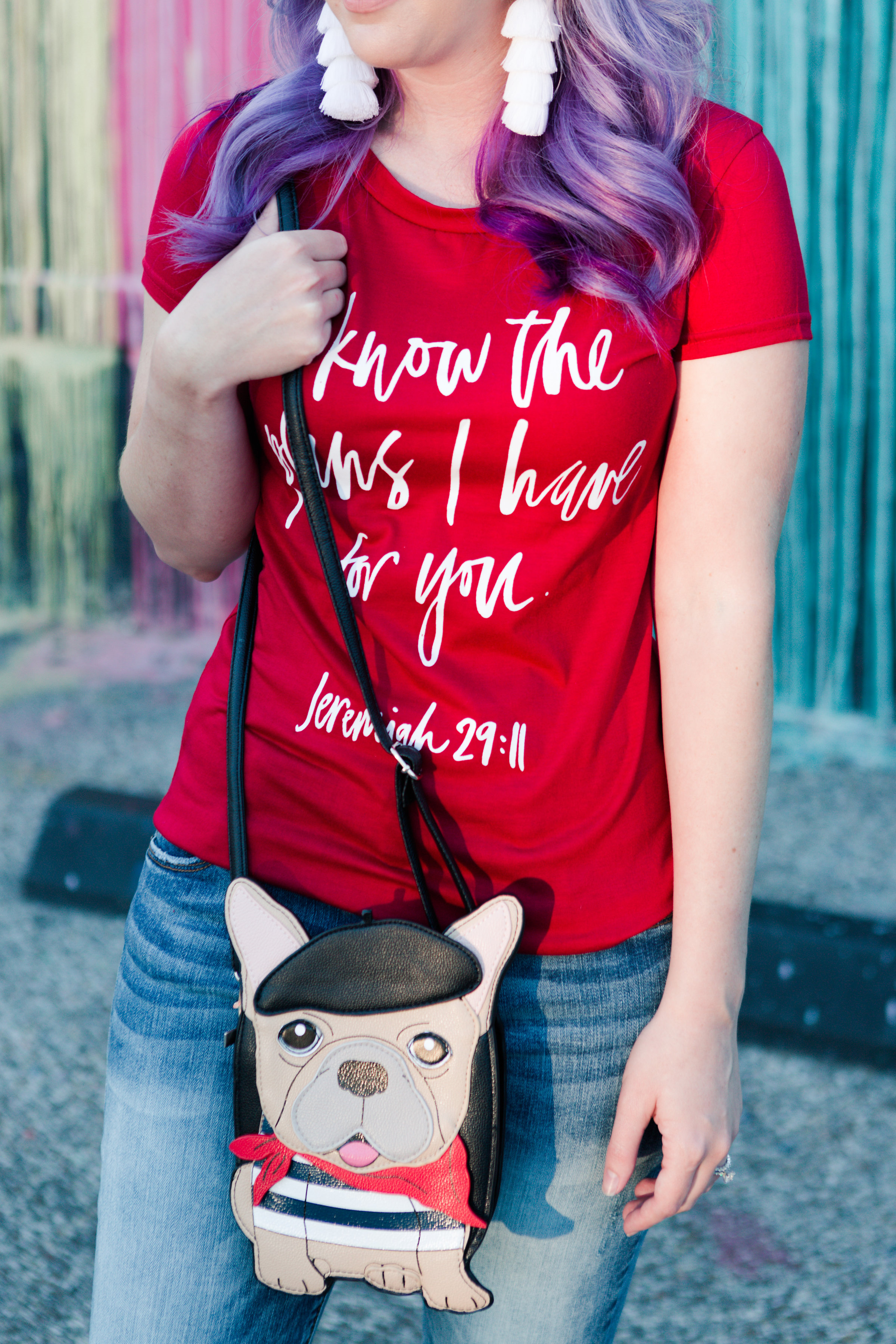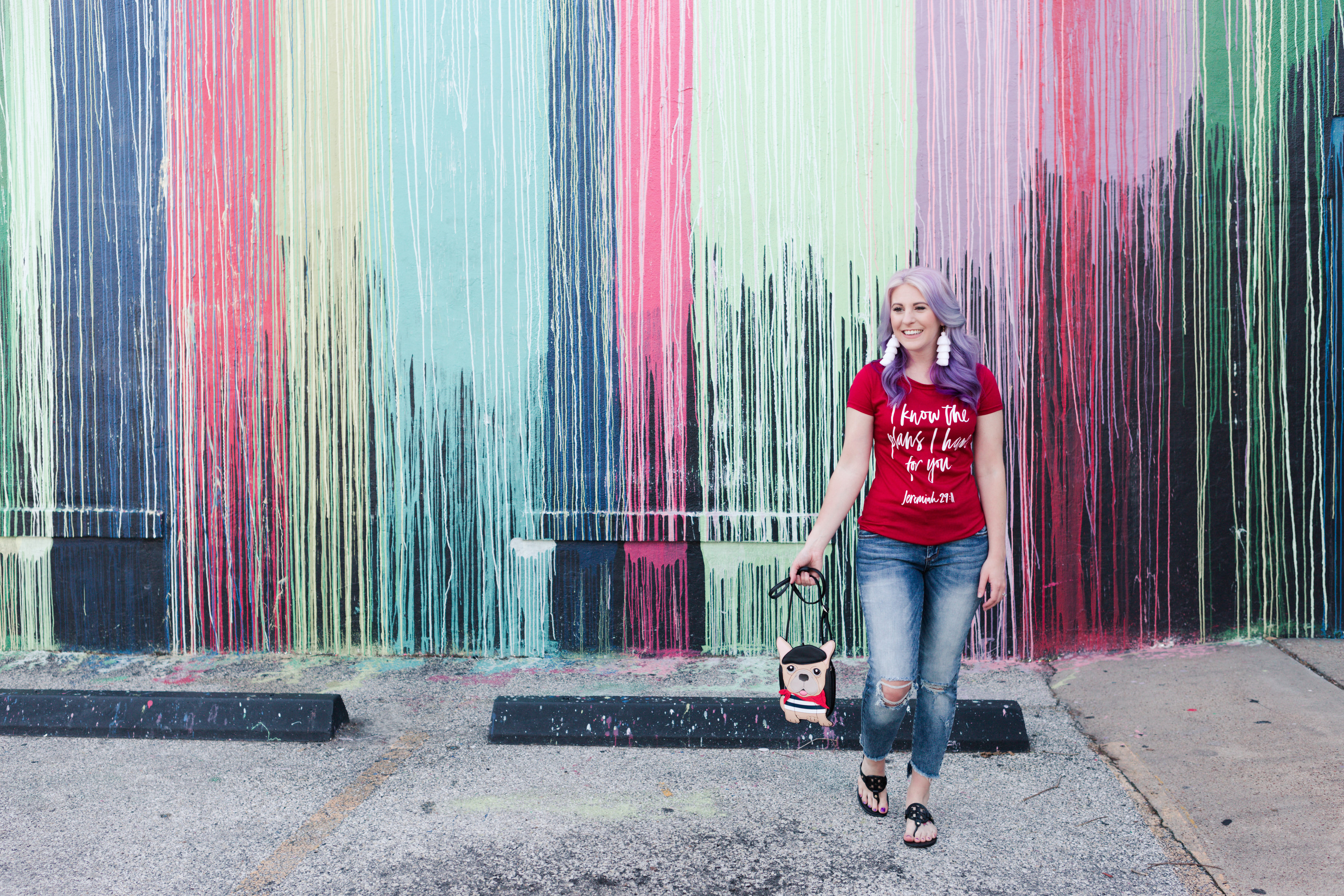 Photography By: C Wright Photography
Tee: Shein // Jeans: STS Blue // Sandals: Tory burch // Frenchie: Supermoon // Earrings: Etsy
I am sorry I had to neglect y'all this week (trust me I don't enjoy leaving you in the dark), but the hubs had to have surgery on his broken arm & wrist this week. I have been all in with tending to him and trying to catch a nap every now and then. Needless to say, things have been a little, ehhhh alot hectic around our house. But we are on the road to recovery now! We had have amazing support and prayers from our family and friends during this time and can't say THANK YOU enough to these wonderful people. I am able to start getting back to the norm today which is honestly nice lol. I didn't think I would actually enjoy sitting in traffic… ever.
This shirt says it all "For I know the plans I have for you" – Jeremiah 29:11. This verse has spoken to me more over the last few months that ever before. From the struggles of trying to become pregnant again, to Kyle unexpectedly breaking his arm & wrist and needing surgery. It can leave a person feeling totally defeated. I truly have chosen to look at it things in the opposite way. God has a much bigger and better (which who doesn't bigger and better) plan for our family. We as a couple of bought heavenly stock in this verse because it makes us realize that in our so called defeat blossoms unbelievable gains and happiness. I came across this shirt when I really needed it the most. It was just the reassurance I needed to take my focus away from all the "goals" I was chasing and turn my focus to the one who opens all the doors for us to walk through and grab those goals! I am not trying to be on a some type of holy roller train, because Lord knows that isn't me, haha. He knows my wine drinking, bible reading, hot mess self too well. I am just leaving you with some insight I have found that has truly helped me and my family.
Okay, Okay.. before you go thinking I am totally off my rocker I'll explain this blog post title. You might wonder what does on God's green earth does "Fancy Goals" even mean?! Haha, well funny you ask because this French bulldog crossbody from Supermoon in Austin, Tx just throws fuel to the fire Kyle and I have to one day add a French Bulldog to our crazy family! This cutie is far more fancy than I could ever be, just look at this too cute scarf Sir Trendy is wearing! If that doesn't scream fancy to you I definitely don't know what does. If you want to help a crazy dog lady out I would love any French Bulldog breeder referrals that are reasonable and reliable (NO PUPPY MILLS!). I do follow frenchy rescues, but most of the time Kyle and I aren't able to take on the financial burden of the conditions most of those sweet souls are diagnosed with. Should things change we will most definitely be adopting! In waiting for the right time to add a little squishy face to our family, I am just to going rock this adorable little fancy pup around town. He will definitely be getting more compliments than I!
A quick side note:
This month marks my First Year of Blogging! Gracefully Sassy is my honestly my place of happiness and I couldn't be more over the moon to share it with you daily. There will be a full blog post later on this month celebrating this, but I just wanted to pop in for a quick THANK YOU before then!!