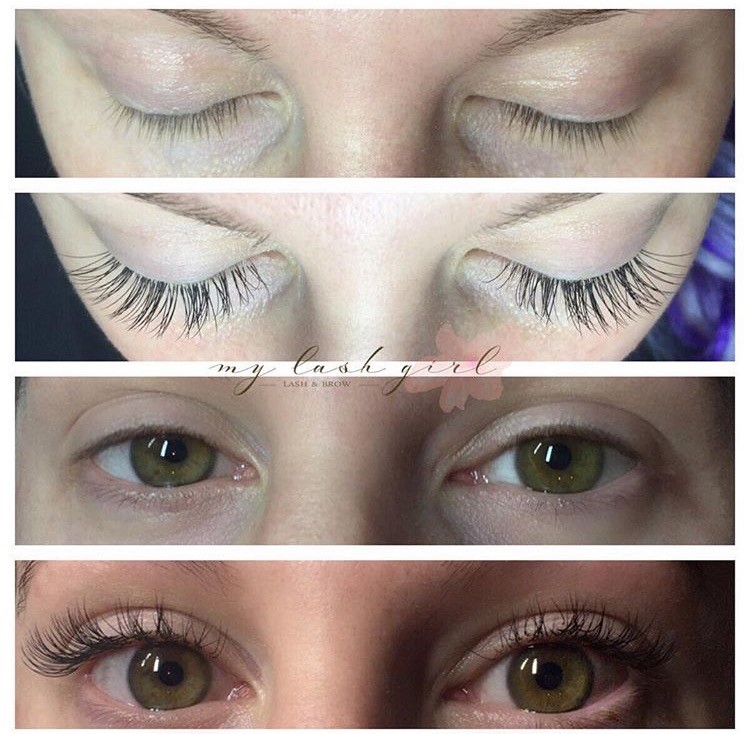 Have you been a lash extension skeptic? I TOTALLY was! And I say was because I am now a lash extension wearing gal. I had built up so many cons in my head in getting eyelash extensions that I couldn't see past my own ignorance, until I saw the amazing work Darlene with My Lash Girl creates. She is truly sensational at curating the perfect lash formula specifically for your eye structure, style, and look. If you enjoy my look above here is the formula Darlene curated specifically for me: lash size 7, 8, & 10 with curl C and .15 diameter.
Before lash extensions I frequently wore lash strips for blog shoots or events I was attending.
There were two BIG issues that always bothered me:
The glue over many hours would irritate my sensitive eyes.
The weight of the strip began to really weigh on my eyes after only a few hours of wearing them.
When I partnered with My Lash Girl for this blog post I wanted to give you my honest eyelash extensions review with the pros and cons.
PROS

You wake up daily looking so put together without an ounce of makeup on. That is a must for these sassy pants as I typically wear little no makeup during the week. I look like I am ready to walk the red carpet without a minute of any makeup routine in the mornings.
If you are a lash strip wearing lady and you take the time for eyeliner, and then perfecting the strip application, well with lash extensions you have shave an easy 10 minutes off of your makeup routine. This alone quickly convinced my husband they were worth the investment! I don't have to apply anything to my eyes other than my brows and the occasional eye shadow.
Weightless! Like I said earlier, strips were so heavy on my eyes. I couldn't tell you why, just that is how I always felt with them. I don't even notice I have anything on my eyes. It's so wonderful! Being able to look like a glamazon without the old saying "beauty is pain".
I do all my usual day to day life things such as hair, makeup, airbrush tan, eyebrow dying & waxing, ect. I have had zero issues with anything lessen my beautiful lashes. And let me just be loud and clear, by choosing a true lash expert to apply your lash extensions your natural lashes will not shed ANY MORE than there usual life span. In plain terms: there is no damage or loss of your natural lashes! This was a big concern for me when contemplating getting extensions. I had a full sit down consultation with Darlene prior to ever coming in for my lashes. I asked every questions under the sun and she had all the lash educated answers for all of them.
Maintenance is truly a breeze. They simple combing of your lashes in the mornings and evenings is all I have to do. Darlene also sells her special lash cleaning solution she refers to as "lash poo". Some people like peace of mind with cleaning their lashes at the end of the day, regardless if they had worn makeup or not. And this solution is easy on even the most sensitive of eyes that will leave them clean and fresh.
CONS
I am sure you're thinking there has to be cons to perfectly sounding beauty must have and from my experience I have found VERY few. I wouldn't even say that these are honest con's, just simple things you need to be mindful of if you have lash extensions.
I seriously love to rub my eyes after a long day, but that is something I am no longer able to do as it will pull all my lovely lashes out. Your eyes become a no touch zone with extensions. No worries, that isn't anything a small glass of wine in the evening can't fix!
Being mindful of the products I put near or around my eyes can be a tad tricky, but nothing major. From makeup to skin care, things need to be oil free in that region to refrain from destroying the lash adhesive.
Once those chiller holiday months roll around you have to remember to not place your face over  a pot of boiling water (the heat from the steam kills the adhesive). Also, the same goes for those patio fire pits. Don't sit too close because you will singe and melt those lash ends together and not one likes clumpy lashes.
I have currently started a more voluminous look, but without being full wabaam volume. Darlene refers to it as hybrid and it for me is the perfect medium for a classic look, with a dash of sass. I will see about having a full Instragram stories video of my refill next week for you to really see all the in's and out's of the process.
*This blog eyelash extensions review post is in collaboration and sponsored by My Lash Girl, but as always all thoughts and opinions are my own*