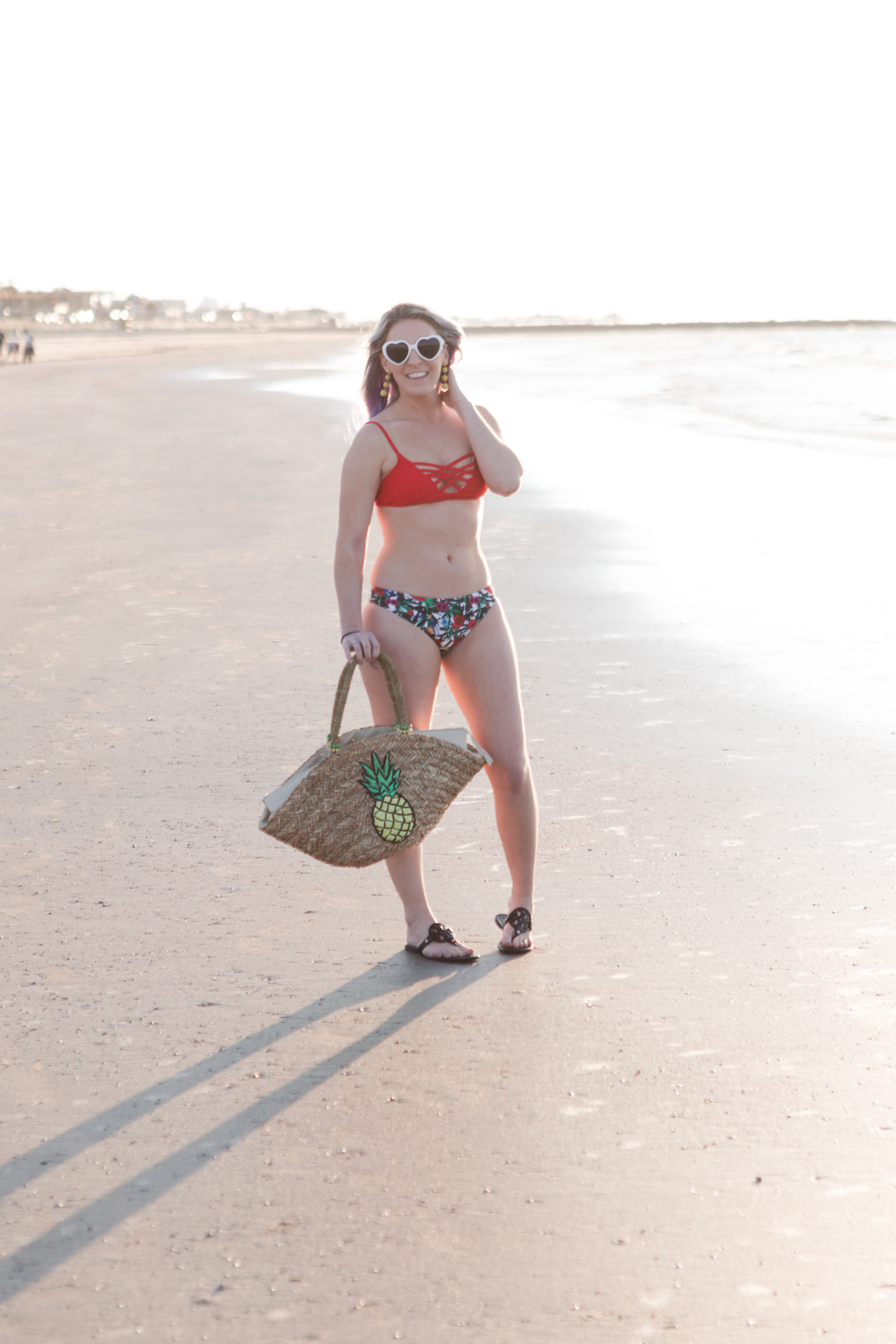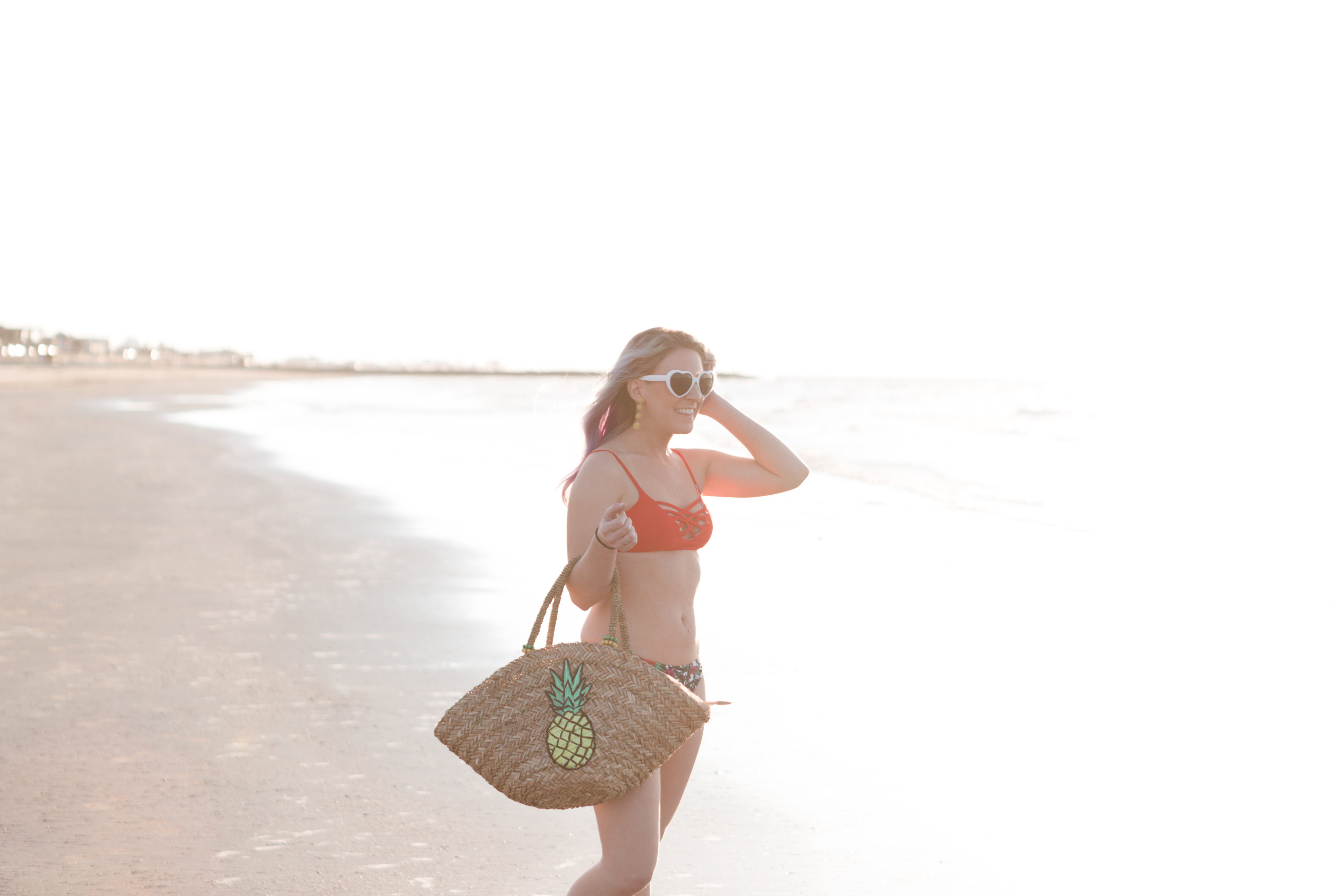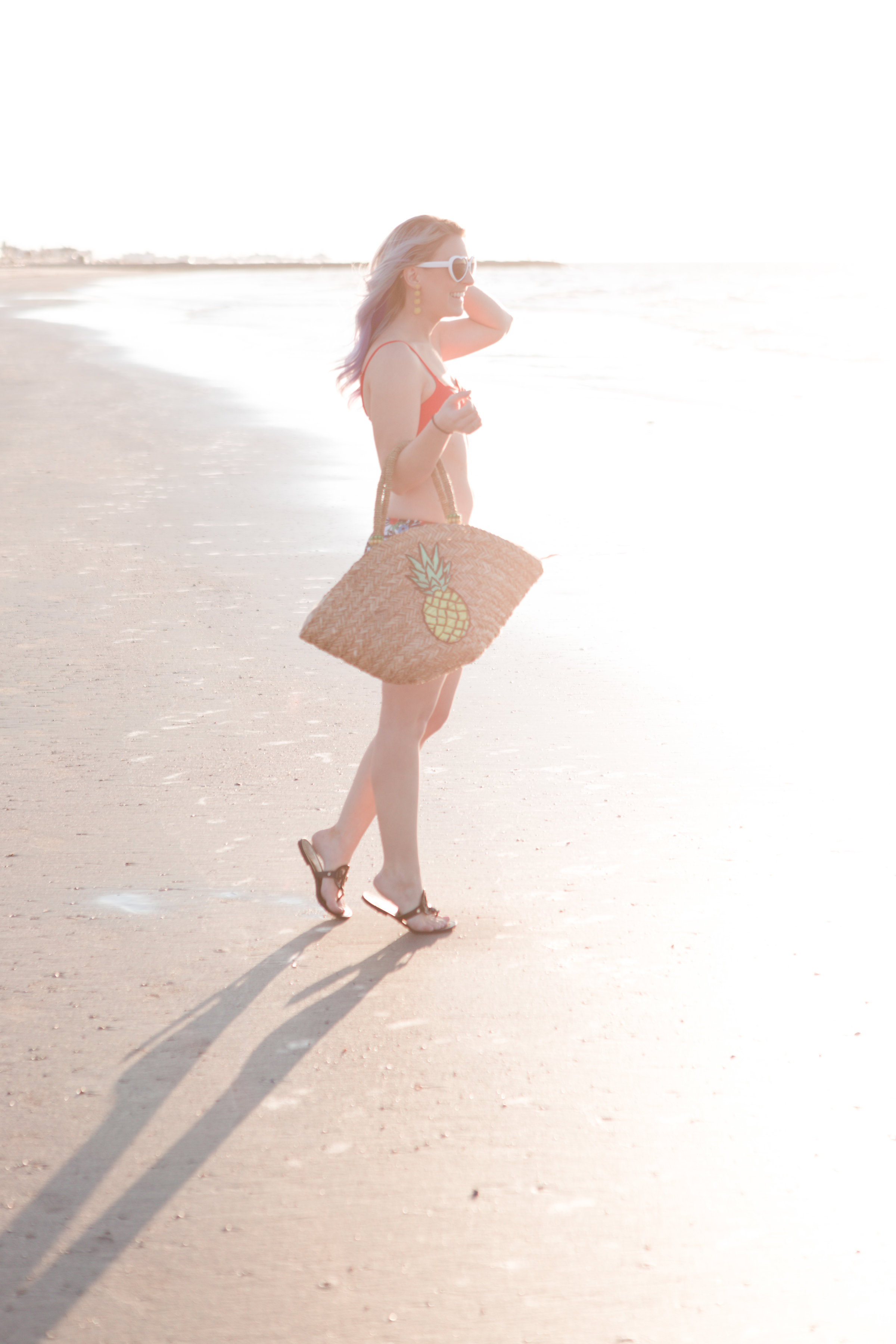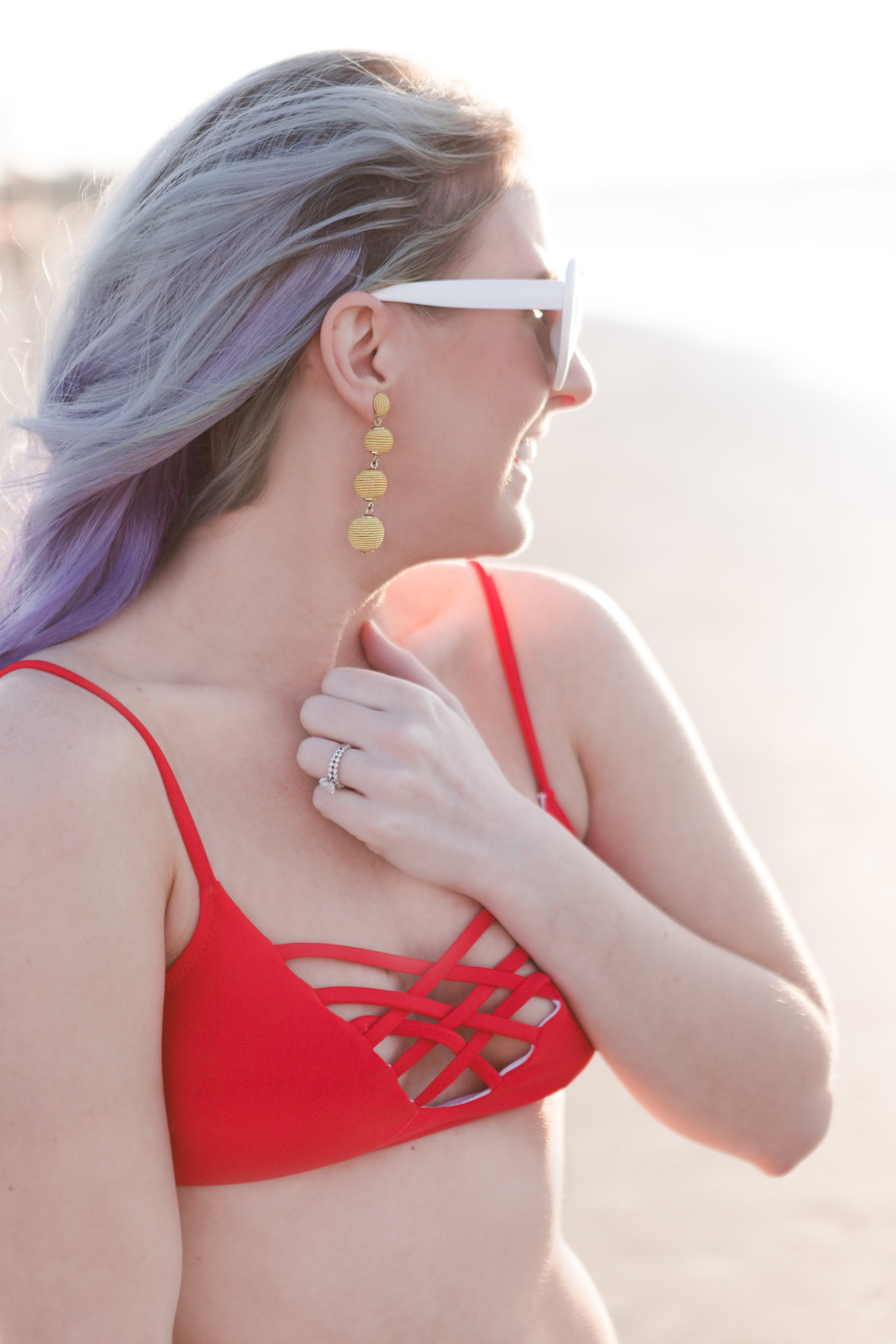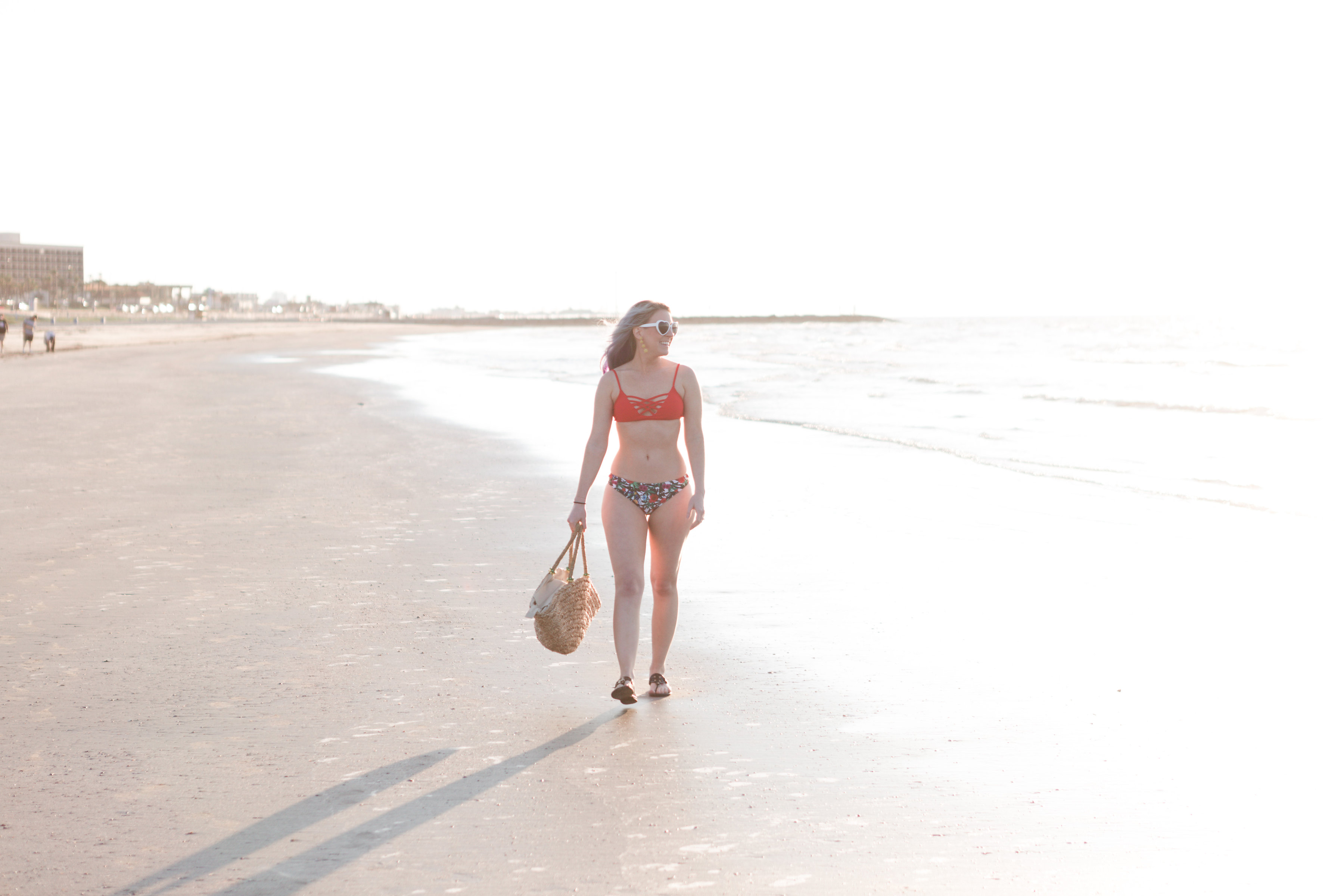 Hair Stylist: Cattleya Hair Studio
Photography By: C Wright Photography
The hubs and I were semi-sad about not being able to take a full on tropical vacation somewhere this summer. He started a new job in the fall of last year and has very little time in his training months (this summer) to take time off. Not to mention, this new job came with a temporary pay cut so after contemplation, STAYCATION was what we decided to enjoy this year.
I'll be quite frank with you, I am not a fan of the Galveston water. I typically only walk along the beach and get in no further than ankle deep. That doesn't mean that there aren't a million other fun, and tropical things to do on the island. I made a whole list below of places to eat, things to do, photo op places to visit, and my favorite swim-up bars around Galveston.
Before you splurge on all the Staycation details can we just talk about Floral Swimwear for a second. Floral is everywhere this year and one of my favorite timeless trends. These pieces are worth your investment because they never go out of summer style. I linked below my favorites from bikinis, high waisted 2-pieces, one piece wonders, and more. These are all in decent price points that you can probably grab a couple while you're at it 😉
Staycation To-do's & SwimUp Bars:
Touring the historic parts of the island on a double bicycle! This has to be one of the funest day dates we have had in a long time. As long as it's not in the middle of August heat it is truly lovely!
If you're feeling a little boardwalk thrill ride is up your alley, well the Galveston Pleasure Pier is your place. You can enjoy a bite, watch the kids enjoy some carnival time, or have a dreamy ferris wheel ride with your love. It's fun for all ages, and Kyle and I enjoy doing whimsical things like this.
Who would have ever thought it, a bar that sounds the center attraction.. THE POOL! The Float Pool & Patio Bar  is located along the seawall. Whether you're looking for a place to enjoy drinks while watching the ocean or take a dip while swimming up to the bar this is a fun take on island bar life.
Another great SwimUp bar is located inside the San Luis Hotel. This hotel will give you all the resort vibes for a true Staycation experience. They have gorgeous tropical atmostphere in their resort pool area that is adorned with cabanas, and you guess it, a SwimUp Bar! Kyle and I like to take a weekend getaway here in the summer to relax and enjoy ourselves as if we were in the middle of Caribbean sipping margaritas. It won't disappoint any Staycation expectations you may have.
Photo Ops:
If you're like me, then you probably have a color obsession. Have you seen the insanely gorgeous colorful hotel in Palm Springs, CA? This is an iconic place many bloggers visit to capture all their summer fun images filled with more color than you can dream up.
Well, if you're looking to visit Galveston and stay on the island I found you the perfect condos that mimic the Palm Springs beauties at half the cost. You will have more photo opportunities that your memory card can handle. Trust me!
Be sure to visit historic downtown Galveston on your Staycation. There is so much character to capture it will give you ALL the heart eyes! Not to mention, if you enjoy antiques then you will love coming to shop here.
Grub!
Gypsy Joynt will have you dancing on the tables from taste bud happiness. Kyle pretty much makes this a MUST when we go to Galveston, evening if we're just going for a beach day.
RedFish Pool Bar, although they don't have a SwimUp bar, they have a huge pool that is family friendly! They food is decent casual food, with large bar menu and great cocktails. The atmosphere is loads of fun and right along the seawall let's you enjoy the beach without having to deal with Galveston sea water.
Viva La Brunch, Mosqito Café in Galveston is where my island brunch heart lives. Hubs has learned not to even ask if a brunch opportunity presents itself because there is where we're headed, no questions asked!